The Easiest Way to Pack Roller Bearings is Here
Roller Packa 1 is your quick, clean and stress-free way to lubricate wheel bearings. Once you've seen how easy it us, you'll never use those messy old methods again.

Now ships in two sizes (450gm and 14oz/400gm), your Roller Packa comes complete with a set of plates for various bearing sizes, and includes a handy shelf holder for the Packa and plates.
CAUTION: Please choose product to match your grease cartridge carefully! Refunds and replacements will not be issued for incorrect orders. Click here for sizing information.
---

Roller Packa 1:
(AUS, etc)
450gm Cartridge Size
PRICE: $99 inc GST + Freight
---


Roller Packa 1:
(US, etc)
14oz/400gm Cartridge Size
PRICE: $99 inc GST + Freight
---
3 Easy Steps to Perfect Bearing Lubrication*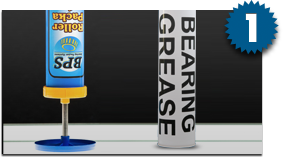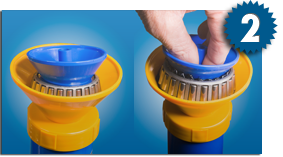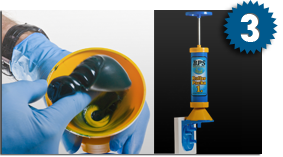 STEP 1: Load a standard grease cartridge into your Roller Packa 1 and insert the piston: you're ready to go!
STEP 2: Place the bearing into the top of the Packa, and apply gentle downward pressure. The bearing is perfectly greased! Repeat with the other bearings that need greasing.
STEP 3: Remove the excess grease using one finger and place inside the bearing hub.

Place the blue cone back into the Packa to seal it. Store the Packa on the supplied shelf holder.
* NOTE: For detailed technical instructions, please visit this page